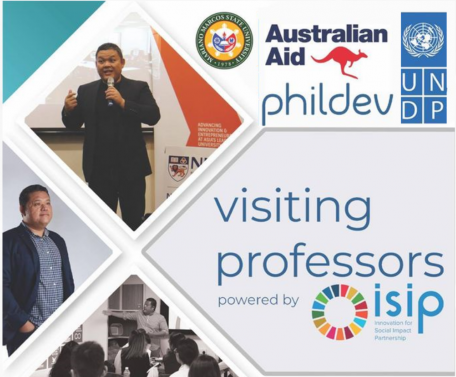 The Mariano Marcos State University (MMSU) is partnering with Innovation for Social Impact Partnership (ISIP) in order to conduct a series of activities to promote technological innovation and boost technological entrepreneurship in the university.
Led by Dr. Nathaniel R. Alibuyog, dean of the College of Engineering (COE), this partnership program has brought in a visiting professor (VP) from another country to the University.
This was made possible because MMSU is one of the Philippine universities that belong to the Technopreneurship Hub Network, a group of Higher Education Institutions serving as Centers of Technopreneurship Excellence.
The ISIP program aims to increase the capacity of Philippine higher education institutions, such as MMSU, to facilitate the development of university-based startup enterprises with social impact. ISIP's Visiting Professors brings in international experts to equip faculty and administrators with the best practices on entrepreneurship teaching.
For instance, a social entrepreneur from Singapore, Mr. Russ Neu Wee Teck, has served as a visiting professor to MMSU and provided guidance to the university's needs on entrepreneurship teaching, startup enterprise mentorship, and incubator operations through workshops, consultation meetings, and mentorship sessions.
Mr. Russ is the CEO and founder of Social Collider Pte Ltd, a social enterprise awarded with the Global Ambassador Award from the Singapore International Foundation for impact to the youths and sustainability.
In his intensive 10-day virtual sessions with students and faculty, Russ discussed the social entrepreneurship framework, stages of startups, social venture business canvass, and the creation of shared value strategy. He, too, facilitated a bootcamp that gave the participants an avenue to reflect and work on a sustainable idea that helps society.
Meanwhile, this development venture was started with the re-entry plan of Dr. Alibuyog after he participated in a training conducted by PhilDev, a non-profit organization geared at accelerating science and technology for national development.
It was an activity to prepare for the offering of technopreneurship programs. This is in relation to the Commission on Higher Education's move to mandate all engineering programs in the country to offer techno-preneurship courses.
Achieving in a five-year plan
With ISIP's conceptual framework, MMSU must be holistically ready with the following in order to become a technopreneurial University: a) leadership and governance; b) organizational capacity, people and incentives; c) technopreneurial development in teaching and learning; d) pathways for entrepreneurs (internal and external opportunities for employees); e) external relationships of the University for knowledge exchange; f) internationalization; and g) measuring impact.
With this, Dr. Alibuyog and his team drafted a five-year roadmap to ultimately integrate social entrepreneurship in MMSU.
In the University framework, the academic, research, extension and business units must be highly involved in technology and innovation. By uniformly planning, implementing, and evaluating social entrepreneurship initiatives together, MMSU is geared at becoming a wellspring of technology and innovation in support of sustainable growth and development.
Particularly, the University targets to increase copyrights, patents and utility models; to escalate the number of spinoffs, startups and incubators; to enhance sustainable agri-enterprises; to improve on job creation and employment; and, to expose new products, equipment, and machines in the market.
These can be achieved through curriculum development, faculty training and immersion, hosting of more visiting professors, pitching competitions, techno-forum and science technology innovation competitions, fab lab development and patent licensing.
Further, the university is set to optimally operate its Science and Technology Park, the University's haven for innovation exhibits. It will also try to strengthen the academe-industry partnership through joint research collaboration and student-faculty immersion and boost the commercialization of its developed technologies.
MMSU President Shirley C. Agrupis commended the MMSU – ISIP team for this extraordinary intervention.
"I am very much excited to see the development of the University as a center and haven for these novel outputs which will uplift the lives of the Ilokanos and the larger community," she said.