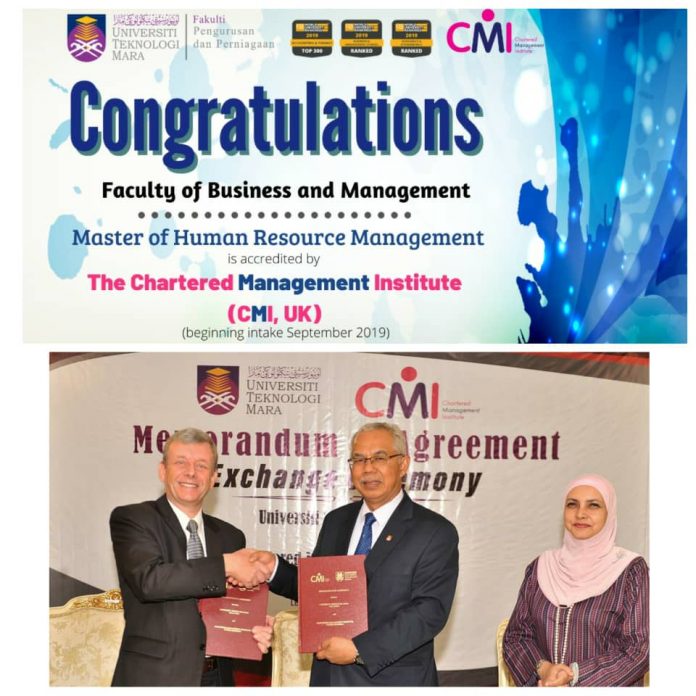 Universiti Teknologi MARA (UiTM), Malaysia, and the Chartered Management Institute (CMI), United Kingdom, have signed a Memorandum of Agreement (MoA) on a professional accreditation course on 3rd January 2020. UiTM is very proud to have an international accreditation by CMI, the world's leading professional body in management and leadership based in the United Kingdom. The Masters in Human Resource Management (MHRM) program which has been offered by the Faculty of Business and Management (FBM) since 2017, is one of FBM's oldest postgraduate programs.
It's very heartening to note that students enrolled in MHRM from September 2019 will receive not only a scroll for their Master's degree but also a CMI Level 7 Certificate in Strategic Management and Leadership. The accelerated pathway for professional certification to UiTM students is another international recognition for UiTM and the Masters program. FBM hopes to break new grounds and also make MHRM a distinct program. As it is increasingly becoming more important for students these days to be equipped with professional capabilities, they need to acquire skills that are more current so as to increase employability so that they will have a head start in their professional careers.
 "The Chartered Management Institute is delighted to work with Universiti Teknologi MARA. Through our partnership in the MHRM program, the addition of CMI's professional accreditation will boost graduate employability and enable them to become more effective managers and leaders at the workplace. We look forward to more such opportunities to further our collaboration with UiTM", said David Jones, Managing Director of CMI Asia Pacific.
The signing of MoA between Professor Emeritus Datuk Ir. Dr. Mohd Azraai Kassim, Vice-Chancellor of UiTM and Mr David Anthony Jones, Managing Director of CMI Asia Pacific, was witnessed by Associate Professor Dr Siti Halijjah Shariff, Dean of the Faculty of Business and Management, UiTM, Mr Adzli Arizal Ahmad, CMI Relationship Manager and invited guests.
In his welcoming speech, the Vice-Chancellor of UiTM said that "the university is indeed very happy to be part of the collaborative initiative in building the next generation of young managers. This is also a double celebration for UiTM since FBM is recognized as a Study Centre by CMI in conducting CMI programs".
FBM is one of the oldest and largest faculties in UiTM with an enrolment of 28,404 students as of February 2020, providing programs ranging from pre-diploma to Doctor of Philosophy (PhD).