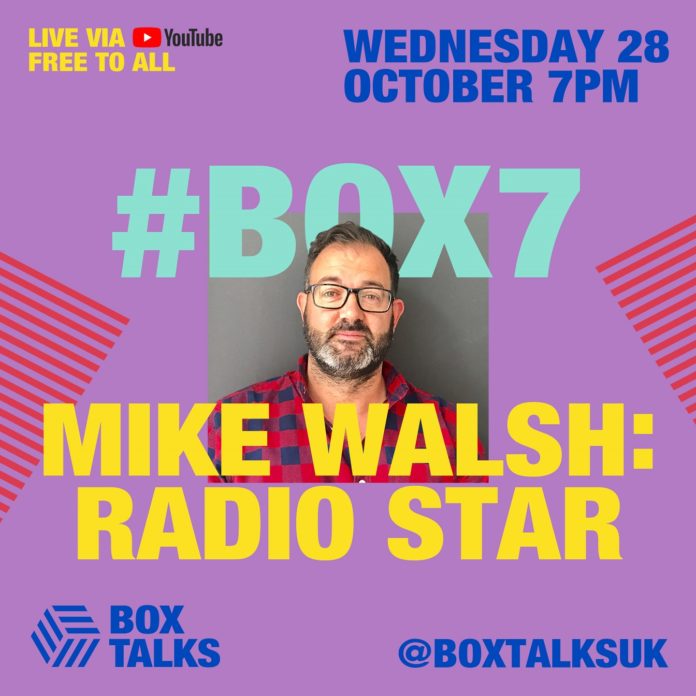 London College of Creative Media (LCCM) has announced the return of the 'Box Talks' series, hosting former head of Radio X/XFM Mike Walsh on Wednesday 28 October.
LCCM's Box Talks marks its return to the state-of-the-art Music Box campus in London's Southbank. Hosted virtually via YouTube Live, the discussion will see Mike Walsh breaking down his decades of experience in broadcast, digital, and music businesses as well as his valuable insights as one of the UK music industry's most renowned and respected voices.
A Mercury Prize judge for the past four years, Mike is a member of the War Child UK music board. At XFM / Radio X, Mike hired and managed some of the biggest names in UK radio whilst giving first playlists to artists including Adele, The xx, Mumford & Sons, Lana Del Rey, Biffy Clyro and Courteeners, Bastille, Blossoms and many others.
Mike has also staged award winning live events with household names like Noel and Liam Gallagher, Florence and The Machine and Ed Sheeran, and worked TV and radio promotions at Parlophone Records in the late 90's.
JD Donovan, Creative Industries Liaison for LCCM, said, "We are unbelievably excited to for the long-awaited return of Box Talks. Mike is one of the most experienced radio execs in the UK and his industry insights will be invaluable for attendees."
Launched in 2019, Box Talks is a series of masterclasses led by industry leaders, aimed at supporting and guiding today's aspiring talent. The event series brings together experts and professionals from the world of international music and creative arts.
Previous speakers have included Nick Halkes, Ann Harrison, One Bit Kwame Kwaten, Jasmine Dotiwala, Cookie Pryce, and many others, who shared their insights on different aspects of the industry.
During lockdown, LCCM continued to provide online learning and support for its students, launching the 'FastTrack' initiative and hosting the 'QuaranStream' events, a series of online masterclasses featuring guests such as Nitin Sawhney CBE, Jacob Collier, and Ayanna Witter-Johnson.
Dr Simon Jones, Principal of LCCM, said, "We continued to work to ensure our students could continue their studies without disruption, but we also wanted to provide them with additional learning resource."
"We are excited to be able to welcome back students, and we are looking forward to hosting more prestigious guests for our masterclasses. These events are a trademark of our institution, bringing industry experts to our students to meet and inspire them."
Learn more about Box Talks here. The event will be streamed live here.