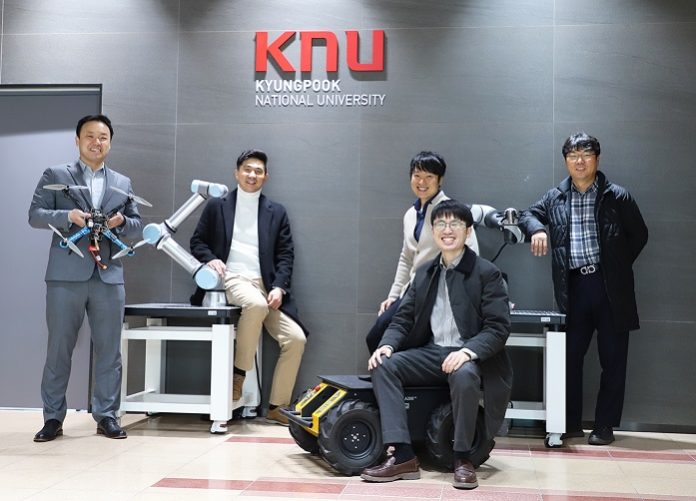 Kyungpook National University(KNU) is stepping up efforts to foster the robot sector to lead the era of the fourth industrial revolution, which has led Korea's industrial development earlier due to the specialization of the engineering field.
The university established a department of robotics and smart system engineering at a general graduate school in 2019 and decided to open a related major in the new convergence department in 2021. The robot sector is the leading high-tech sector in the fourth industrial revolution and is included in a specific field for training human resources announced by the Ministry of Education.
Since 2019, Kyungpook National University has hired five full-time faculties, including Jung Wook Seo, Hyun Min Cho, Young Seop Son, and Han Gil Cho, and has been pushing for research in various robot fields and fostering talent.
The "Adaptive Robot and Mechanical Laboratory (AROME Lab)" is in the midst of research on robot mechanisms that can be applied for various purposes. Professor Jung Wook Seo, who leads the laboratory, is studying the development of light and inexpensive robots through mechanical structural changes of robots. Professor Seo is currently carrying out the task of developing a construction robot to automate the molding process at the construction site.
Besides, research is underway on lightweight wearable robots that can boost the muscle strength of wearers through cable-driven mechanisms. "Research on robots, both at home and abroad, is accelerating, and Kyungpook National University is trying to establish a research and education environment as good as that of the metropolitan area. "We expect to see robots that walk down the street with the KNU logo of Kyungpook National University soon," he said.
The KNU Humanoid Robotics Lab, led by Professor Hyun Min Cho, studies humanoid robots that can coexist with people and provide various services to people.
"For humanoid robots to perform various tasks, human-level mobility and object manipulation capabilities are prerequisites," Professor Cho said. Currently, we are researching robot systems with stable heterogeneous walking control in various outdoor terrain and robot hand and gripper systems that can manipulate various unstructured objects.
"The research is a core technology for humanoid robots and is also a source technology that can be applied to other robots, so I think it can contribute to the development of the robot academia and industry."
"In line with the Fourth Industrial Revolution and Green New Deal policies, the Autonomous and Control System Lab is studying autonomous and control systems that can perform special tasks in diverse and complex environments, focusing on autonomous electric vehicles. We develop systems that can recognize the environment by utilizing various sensors(ultra-sound, camera, Radar, Lidar, etc.), design of electric drive platforms that can move reliably in general or special environments, and Adaptive Curies Control (Lake Keeping System) for self-driving electric vehicles," added Professor Cho.
"The development of self-driving electric vehicles, a key area of the government's future car development strategy, is currently, is currently in progress, and we will secure core technologies of the future car development strategy, is currently in progress, and we will secure core technology of the future car industry in the future, said Professor Young Seop Son of the research center."
The "Air Robotics Research Facility," led by Professor Kyu Man Lee, is studying the fundamental challenges of intelligent aviation robots and autonomous flight systems that will help all mankind. The main task of the laboratory is to develop drones and autonomous systems that enable reliable levels of autonomous flight in complex and dynamic real-world environments.
Professor Lee said, "Recently, socially familiar aerial robots are used in various fields and are worth infinite use. However, many technical and institutional challenges need to be solved, and in many cases, in actual industrial sites, people still have to control them directly or indirectly. For example, the appearance of a drone in a movie has a substantial gap with reality. As a result, improved autonomous flight performance will further increase efficiency and utilization value in many ways if sufficient drone safety is ensured."
Field robots that are put into extreme environments where human access is difficult to require high hardware reliability and special environmental recognition techniques. The Field Robot Laboratory at Kyungpook National University studies the development of reliable underwater robots that withstand strong water pressure in the deep sea and the strong sensing technology for the robot's environment awareness in environments where camera use is restricted due to turbidity, dust, and fogs.
Recently, based on underwater robot technology, the company has been developing a robot system that performs missions at large disaster sites mixed with water, dust, and heat.
Professor Han Gil Cho of the Field Robot Institute said, "Our laboratory makes robots by designing, manufacturing, and building intelligence systems. "We're trying to create a culture of building robots one by when we graduate."