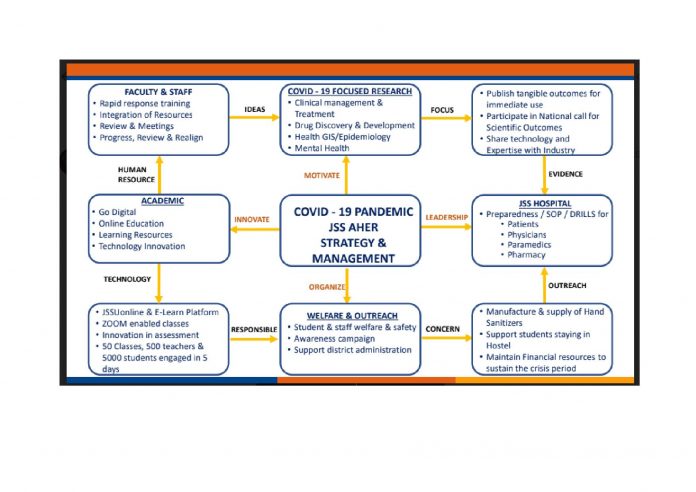 JSS Academy of Higher Education & Research (JSSAHER), Mysuru has taken several steps to limit the spread of COVID-19 while ensuring the continuity of teaching, learning, and research activities.
To assist the academic, research, and outreach (community services) JSSAHER has implemented the following:
Preparedness: Preparing for the situation for days, weeks and months.
Adaptation: Adapting to a new plan, aligning with mission, vision, and goals.
Protection: Managing crisis to protect people, especially the most vulnerable.
Learning: Using high-resource systems, the use of online technological platforms.
Teaching: Transition to complete online teaching for all graduate and undergraduate students.
Research: Technology-enabled research for data-driven analytics and interaction with researchers by audio &video conferencing.
JSSAHER has also issued 09 advisories for staff and students during COVID – 19 Pandemic supporting the advisories of the Government of India.
Telecommuting Environment
JSS Academy of Higher Education has provided Telecommuting Environment in all the Departments and Administrative Offices to support telecommuting network during leave for personal/ health reasons, natural calamities, epidemic /pandemic, etc.
JSSU Online: An IT Framework to support Pedagogical Innovation
JSSUONLINE, Cloud-based IT Framework delivers IT capabilities to support the needs of Faculty, Students, and  Parents.
It supports Active Learning and Pedagogical Innovations in JSSAHER by providing an IT Framework around which capabilities are built to support and sustain innovations in Education Delivery and Management.
JSSU Online is envisaged to provide a host of capabilities around educational resource delivery and control in a phased manner to all the constituent colleges of JSSAHER as part of its IT Roadmap. Some of the capabilities which are part of the framework are:
Time Table Schedule & Management
Teaching / Study Plans Automation Teacher's Diary for reporting Student's Attendance
Audio / video/ PPT/ Notes  sharing prior to classes
3600 Feedback Digital Content Management at Course / Subject / Chapter and Topic level Multi-location sharing of digital content
MCQ based Examination with the ability to build a Question bank with difficulty levels and then administering to the targeted audience anytime.
Online practical demonstration
Research Profile of Teaching Faculty
JSSU Online, a primary learning management system with IT Framework envisaged continuously to evolve under the strategic IT operating model fulfilling all aspects of JSSAHER requirements in its quest to achieve excellence. Evidence of Success is quite evident through the staff, student, and stakeholder satisfaction levels, reduction of manual process educational content availability, and access.