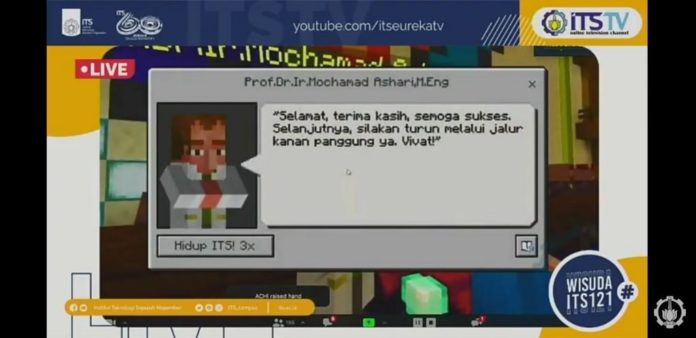 Institut Teknologi Sepuluh Nopember (ITS) conducted their online graduation creatively. Combining the Minecraft game into the virtual conference, ITS carried out its first online graduation in a unique visualization through a virtual game type designing blocks powered by the Minecraft Education Edition which is subscribed by ITS.
Hadziq Fabroyir, Ph.D., the lecturer in Information Technology Department, as one of the ITS Minecraft Virtual Graduation creators said that the shape of the ITS building was developed based on the internet reference due to the social distancing protocol that required them to work from home. The program was also done collaboratively with the Minecraft lovers from home. The communication between players who were joining the Minecraft graduation ceremony was done through Discord. Zoom only accepted video feeds from the OBS Virtual Camera that was transmitted from ITS Minecraft server. The photos of the graduated students were displayed one by one virtually.
In these unprecedented times, ITS tried the best way to celebrate one of the important milestones of its students and by transforming the graduation into an online conference combined with Minecraft, was something that would never be forgotten by the 2020 graduates.