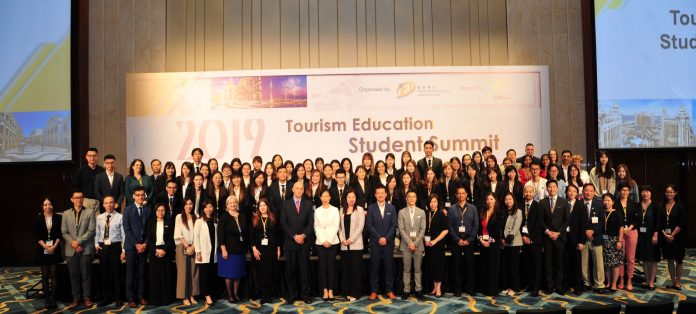 IFT held its 4th annual Tourism Education Student Summit (TEd Summit) on 29 May. Co-sponsored by the Galaxy Entertainment Group, the full-day event took place at the JW Marriott Hotel Macau. It was an opportunity for the Institute's top-50 graduating Bachelor of Science student researchers to present their research findings before panels of industry executives, government representatives and invited community members. During the event, Best Paper Scholarships were awarded to 8 students, each valued at MOP10,000.
Altogether, 215 students successfully completed a research thesis in academic year 2018/19, and in doing so have demonstrated their capacity to think independently and to apply their critical and analytical skills to understanding current trends in the tourism industry. The task of conceptualising, designing and conducting a research study, under the guidance of a supervisor, ensures IFT undergraduates have both the mindset and skill set to be future leaders in their respective fields.
"For many years, hospitality and tourism programmes have been known as technical courses," says Dr. Leonardo Dioko, the head of the IFT Tourism Research Centre. "But, in addition to technical skills – and far more important for the future of graduates – are conceptual and research skills, which will enable them to confront and solve new problems throughout their careers." Dr. Dioko has been involved in a number of public policy research projects undertaken by IFT and commissioned by the Macao SAR Government. The scholar has also served as supervisor for many student theses.
IFT's thesis requirement for undergraduate study has drawn international attention since its introduction. Many students have – on the strength of their completed thesis – been invited to international conferences and similar events to present papers sharing their research findings.
IFT President Dr. Fanny Vong says it was a complicated process to include a thesis among the Institute's graduation requirements for daytime IFT Bachelor of Science programme students. The requirement was introduced in academic year 2015/16. "We made much effort in pushing it forward, in fulfilling all administrative procedures and coordinating all our supervisors," she says. "Though this was not easy, it is really worthwhile for students as it helps them develop their problem analysis skills."
Sophisticated topics
Industry executives taking part in this latest edition of the TEd Summit praised the quality of the student presentations. Each panel presentation session included a moderator from IFT and a group of industry professionals. Panel members analysed the presentations and provided commentary and feedback to each of the participants.
Mr. Andy Lio, Director of Rooms at resort operator MGM China Holdings Ltd, sat on one of the panels. He says the quality of student presentations was even higher than he had expected, with a number of innovative approaches applied to thinking about tourism and hospitality issues. "One of the topics presented was about cultural intelligence," he says. "I had heard about intelligence quotient, emotional quotient and even adversity quotient, but cultural quotient was a completely new concept for me."
Another impressive student presentation, according to Mr. Lio, related to the research methodology adopted by the respective author. "The presenter collected more than 780 reviews from online travel agency Ctrip, analysing them to find out how transportation accessibility – mainly shuttle buses – would affect Chinese tourists' choices of hotels," he says.
TEd Summit provides not only a chance for students to present the outcome of their research; it also acts as a platform for industry executives to learn more about the next generation of tourism and hospitality professionals, and to promote exchanges between both sides.
IFT President Dr. Vong explains that TEd Summit also helps students to become more confident in their abilities. "Students are under great pressure to present their thesis in front of an industry panel, as these people are industry veterans and potentially their future employers. As students get through the process of publicly presenting their work at the summit, they can also learn a lot from it."
Kate Fan, one of the IFT student presenters, agrees. "I was really nervous because I did not know if my idea would interest the panel members." She says participating in the TEd Summit was a valuable opportunity for her to expand her professional network.
Her thesis focused on 'sharing farms', a business relatively new to Macao, that promotes sharing of land resources among individuals for the purpose of small-scale farming. The idea is being introduced to the city by her family. "One of my panel members was an entrepreneur himself, and we exchanged name cards after the presentation," she says.
---
Best Paper Scholarship awardees: TEd Summit 2019
| | | |
| --- | --- | --- |
| Name | Paper title |   |
| Jeannine Cheung | To what extent does cultural intelligence (CQ) predict employee intention to stay in the hospitality industry? |   |
| Yanni Shen | How does high speed rail affect tourists' behaviors? |   |
| Ronald Chao | Intention of local employees to stay in hotel operations under the implementation of staff localization policy in Macao |   |
| Scarlet Lo | Accessibility of the facilities of Macao's tourist attractions to the elderly visitors: Application of universal design principles |   |
| Elsie Chen | Behavioural outcomes of hedonic and utilitarian motivations from an event's social media platform: A case study of the Strawberry Music Festival in China |   |
| Kate Kwan | The impact of festival participants' attitude on the sustainability of traditional festivals: A case study of the Feast of the Drunken Dragon and the Lion Dance Gala of Macao |   |
| Becky Chan | Entrepreneurship: Key opinion leaders (KOL) |   |
| Sandra Wong | Factors affecting mainland Chinese tourists' choice of hotels in Macau |   |