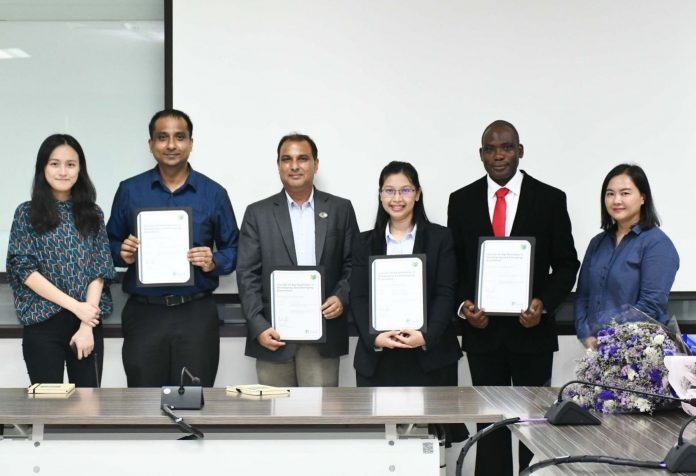 Research at the Asian Institute of Technology (AIT) has earned the Institute the Highly Commended Paper Literati Award 2019 from Emerald Publishing. A paper authored by Dr. Jedsadaporn Sathapatyanon, a graduate of AIT's School of Environment, Resources, and Development (SERD), titled "The Role of Farmer Organizations and Networks in the Rice Supply Chain in Thailand" is this year's recipient of the Award.
Dr. Jedsadaporn, who serves in Thailand's Ministry of Agriculture and Cooperatives, was a student of Agri-Business Management. She graduated from AIT in May 2018, and the paper was part of her doctoral research.
Handing over the award certificate on 4 June 2019 were Ms. Vallada Pattarapokinset, Emerald Publishing representative in Thailand, and Ms. Han Wen Cheng, Associate Regional Marketing Manager, Emerald Publishing.
Also honored were AIT faculty members Dr. Anil Kumar Anal, Dr. Avishek Datta, Prof. Ganesh Shivakoti, Dr. John K. M. Kuwornu, and Dr. Peeyush Soni. Mr. Panuwat Na Nakornpanom, Executive Advisor for Cooperative Promotion, Cooperative Promotion Department, and Mr. Acha Suwonnitya, Director, Agricultural Cooperative Sector and Farmer Group Development Division, Cooperative Promotion Department, also attended the event.
Dr. Jedsadaporn's study examined the development of the rice supply chain in the context of the role of rice farmer organizations and cooperative networks in Thailand. The study focused on the ability of two and three-stage networks to address this issue at both the cooperative level and the member level. The study's findings indicated that at the cooperative level, both the two and three-stage networks performed creditably in reducing problems that existed before the networks were set up.
Overall, the study revealed that crucial production and marketing challenges such as increased transaction costs and market uncertainties confronting cooperative organizations were diminished as a result of the networks. Key issues faced by members of cooperatives, such as exploitation and opportunistic behavior by traders to whom they sell their products, were also reduced as a result of joining cooperatives. The study also highlighted the role of information sharing in food supply chains. These findings have implications for further development and improvement in the management of the rice supply chain in Thailand.