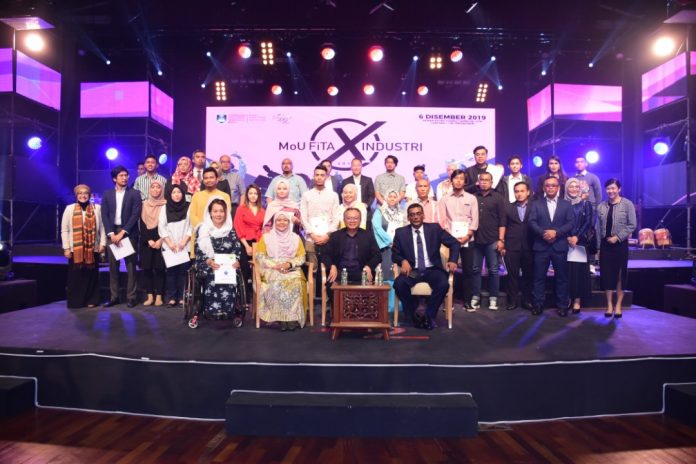 A total of 81 Memorandum of Understanding (MoU) was signed between the Faculty of Film, Theatre and Animation (FiTA), Universiti Teknologi MARA (UiTM), Selangor with 81 creative industry companies in Malaysia. The event took place at Dewan Agung Tuanku Canselor (DATC) UiTM Shah Alam on 6th of December 2019.
The event was also witnessed by Prof. Dato' Dr Rahmat Mohamad, Deputy Vice-Chancellor (Industry, Community and Alumni Network (ICAN); and Professor Dr. Hajah Roziah Mohd Janor, Assistant Vice Chancellor Institute of Quality & Knowledge Advancement (InQKA)
Dean of FiTA, Dato 'Professor Dr. A. Razak Mohaideen said such MoU signing is vital to provide Work-Based Learning placements for some 370 students in March 2020.
"With today's signing, we now have 155 MoUs with 155 companies and the involvement of these organizations will also help reinforce FiTA's new diploma program – the Diploma in Dance and Drama Technology," he said.
He also hoped that the MoU would not only help to enhance the faculty and UiTM's reputation, but would also expand the marketability of FiTA graduates in the future.
The Faculty of Film, Theatre and Animation or its acronym FiTA was established in 1998. The idea of ​​the establishment of FiTA was planned in 1997, which was in line with the current trend of creative industry development in Malaysia. FiTA now has 2591 students and offers 16 academic programmes under a work-based learning platform.  This work-based learning is known as 2u1i (two years in university, one year in industry), a programme which aims to boost students' learning experience based on industry knowledge combined with classroom learning.
FiTA Website : https://fita.uitm.edu.my/v4/index.php/en/
FiTA Corporate Profile : https://www.youtube.com/watch?v=7d6MryWXB94
FiTA – Live Arts, Visualizing Dream!
Written by : Dr. Mohd Syuhaidi Abu Bakar (Deputy Dean of Research and Industry Network FiTA)