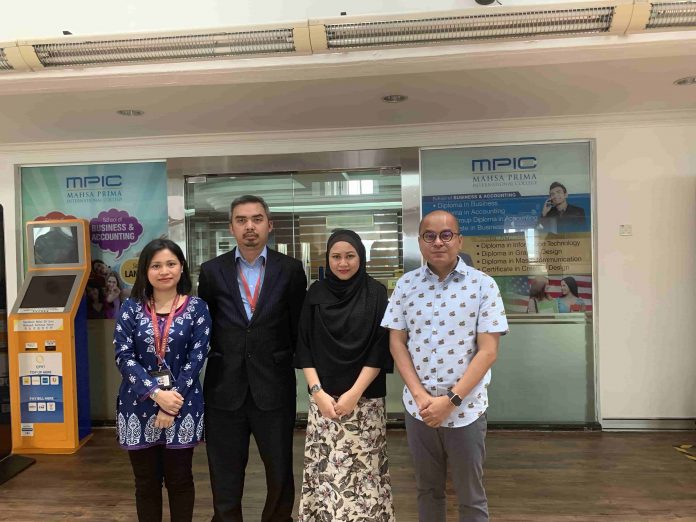 The School of Business and Accountancy of MAHSA PRIMA INTERNATIONAL COLLEGE (MPIC) aims for future academic lecture collaborations, a memorandum of understanding (MoU) signing, and programme review activities with the Faculty of Film, Theatre and Animation (FiTA), Universiti Teknologi MARA Malaysia.
Dr Mohd Syuhaidi Abu Bakar, the Deputy Dean of Research and Industry Network of FiTA attended a meeting with Mohd Lutfi Abdul Halim Head of Department, The School of Business and Accountancy on 24th of October 2019.
During the meeting, both parties agreed to sign an MoU for industrial training placements of students in MPIC in the future. This signing will be done during the KaryaOne 22 event in December 2019. Dr. Mohd Syuhaidi will also be appointed to review MPIC's current Diploma of Mass Communication to further enhance the relevance of the programme.
The Faculty of Film, Theatre and Animation or its acronym FiTA was established in 1998. The idea of ​​the establishment of FiTA was planned in 1997, which was in line with the current trend of creative industry development in Malaysia. FiTA now has 2591 students and offers 16 academic programmes under a work-based learning platform.  This work-based learning is known as 2u1i (two years in university, one year in industry), a programme which aims to boost students' learning experience based on industry knowledge combined with classroom learning.
FiTA Website : https://fita.uitm.edu.my/v4/index.php/en/
Reconnect Your World with FITA
Written by : Dr. Mohd Syuhaidi Abu Bakar (Deputy Dean of Research and Industry Network FiTA)