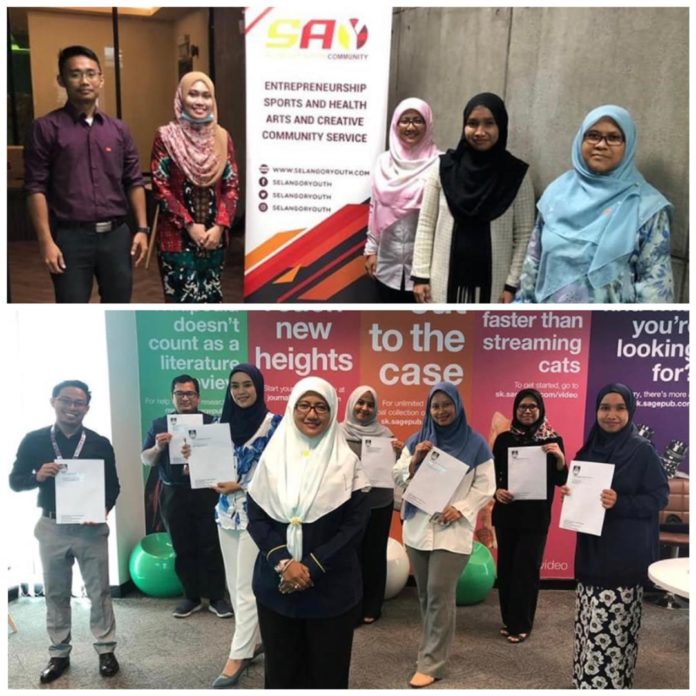 Faculty of Business and Management (FBM), Universiti Teknologi MARA (UiTM), Malaysia recently collaborated with Selangor Youth Community, on a special project known as Leadership Entrepreneurship Acceleration and Development (SAY LEAD) to host the first of its kind Entrepreneurship League for disabled people. The SAY LEAD community is a non-government organization designed for disabled entrepreneurs.
Six lecturers from FBM who were selected for this program were Mrs. Nini Hartini Asnawi, Mrs. Norfazlina Ghazali, Mr. Naqiuddin Md. Mansor, Mrs. Norliza Saiful Bahry, Mrs. Nurliana Kori and Mr. Mohammad Zaim Mohd Salleh. While their responsibility is to mainly administer three mentees, Unit Perkhidmatan OKU, UiTM (UPO) Fellow, Mrs. Saadiah Juliana Saadun, will assist in the implementation of the program.
Ideas on the recovery and progress of the participants' business will be sourced from FBM. This collaboration between UPO and FBM will synergize the skills of the lecturers with the interests of the participants to create new perspectives and insights to boost the confidence as well as the abilities of the selected entrepreneurs. This partnership will also help in promoting UiTM to SAY LEAD and to build close networking for future collaborations.
Throughout the program, the mentors will guide and observe mentees' performance by completing seven modules comprising of the elements of entrepreneurship, marketing and sales, accounts management, communication skills, and networking. The final pitching ceremony will be held at the Palace(Istana) and will be judged by His Royal Highness (Crown Prince) of Selangor – Tengku Amir Shah Sultan Sharafuddin Idris Shah.
"An existing business will continue as usual but they will need to combine their business with new and relevant elements learned from this league", said Mr. Naqiuddin, a FBM lecturer.  Mentors agreed that working with disabled participants with different sets of disability will be a great challenge to them. However, they all felt that it is important to highlight the participants' abilities and not their disabilities.
Ts. Dr. Roslinda Alias, Director of UPO affirmed that no entrepreneurs with disabilities should be left behind. In her first meeting with the FBM dean, Prof. Dr Noryati Ahmad, Dr.Linda
highlighted that "given that the demand for supplies and services will not stop, entrepreneurship is a necessary knowledge. It is the art of survival for disabled community",
This partnership will definitely lead to the creation of more opportunities for future collaborations including community service.  Chief Executive Officer of SAY LEAD Mrs Nurul Azwa Rodzi and Mr. Abdullah Muaz, an Executive of SAY LEAD are foreseeing great success in this program.