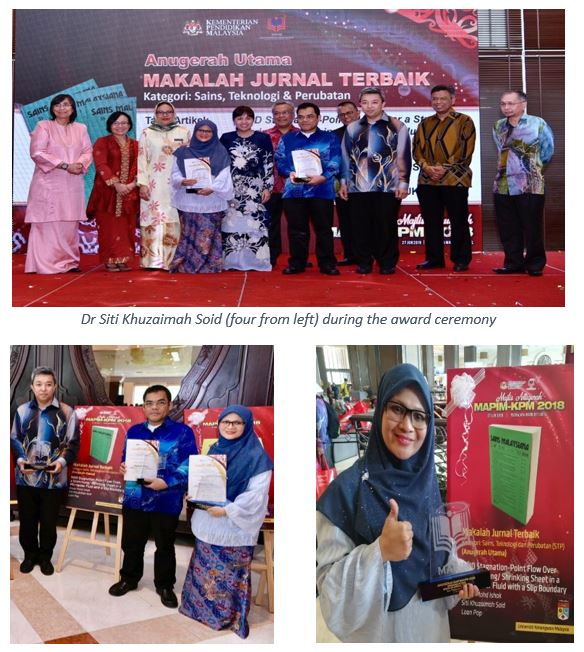 Dr Siti Khuzaimah Soid received the Best Journal Article Award in the Science, Technology and Medical category in conjunction with the MAPIM-KPM 2018 Awards Ceremony held at the Putrajaya Marriot Hotel recently.  The paper entitled "MHD Stagnation-Point Flow over a Stretching / Shrinking Sheet in a Micropolar Fluid with a Slip Boundary" was co-authored with two other distinguished researchers, Professor Dr Anuar Mohd Ishak (National University of Malaysia, UKM) and Professor Ioan Pop (Babes-Bolyai University, Romania). Dr Siti Khuzaimah's article was unanimously chosen out of 26 articles which were short-listed in the category of Science, Technology and Medical.
This MAPIM-KPM 2018 Award Ceremony is the 12th annual event organized by the Ministry of Education Malaysia (MOE) under the administration of Majlis Penerbitan Ilmiah Malaysia (MAPIM).  MAPIM is an organization which actively involves in the development of academic and scientific publication in Malaysia. It consists of 33 members comprising Dewan Bahasa dan Pustaka, public university publishers, research centers and government sectors.  In addition to the Best Journal Article award, there are five other categories of awards which are The Best Book, The Best General Book, The Best Editor, The Best Edited Book and The Best Book Design awards.
The glorious and noble ceremony held at Putrajaya Marriot Hotel, Malaysia on 27th June 2019 was witnessed by Director General Ministry of Education, Y.Bhg. Datin Paduka Ir. Dr Siti Hamisah Binti Tapsir, Vice Chancellor of Universiti Malaysia Sarawak, Y.Bhg. Prof Datuk Dr Mohamad Kadim Bin Suaidi, academicians and also representatives from other local universities. The winners received cash prizes, plaques and certificates awarded by YB Teo Nie Ching, Deputy Minister of Education, Malaysia.