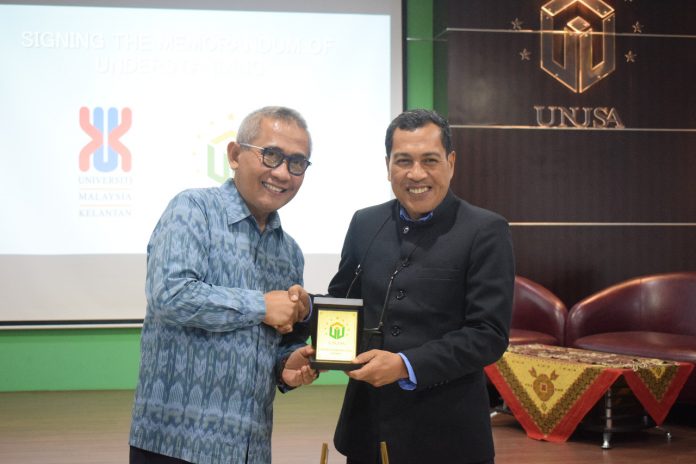 Surabaya – Nahdlatul Ulama University Surabaya (Unusa) continues to expand cooperation with international partners. This time, Unusa pioneered cooperation with Universiti Malaysia Kelantan (UMK) which was marked by the signing of a memorandum of understanding by the leaders of the two universities on Tuesday afternoon (26/3).
"Unusa is one of the top ulema universities in Indonesia, and information in my country, Unusa has a very rapid development, even though it is still very young, and we are very happy to have the opportunity to come here and Unusa is willing to sign MoU with us, "said the Deputy Vice Chancellor of Academic & International UMK, Prof. Dr. Mohd Rafi bin Yaacob.
He said, UMK is considered as one of the youngest universities in Malaysia because it was only founded in 2007. Despite its young age, this college has since been established with a great duty to encourage the development of Kelantan, which was once one of the poorest areas in Malaysia.
Given this great trust, cooperation with superior universities such as Unusa is one way to accelerate the development of MSEs into respected universities, especially in terms of academic quality.
"Our university was indeed established to help Kelantan to be more prosperous. Therefore, we are very happy to be a part of Unusa and we are very grateful to Unusa for sharing their experiences, "he added.
Rafi mentioned three areas that were the focus of the development of MSEs, namely in the fields of geology, agriculture, and business. He hopes that through this collaboration UMK can develop to a higher level and be able to equip its students to become strong graduates and contribute to development.
This was welcomed by the Chancellor of Unusa, Prof. Dr. Ir. Achmad Jazidie, M.Eng, who received visits from UMK. Jazidie called this cooperation a good thing for the progress of Unusa, and hoped that joint activities to be carried out in the future could benefit both parties.
"I hope that in the future we can establish good cooperation and produce fruitful results for Unusa and also for MSEs," he said during the MoU between Unusa and UMK at the Fastron Cafe, 3rd Floor Tower, Unusa Campus B, Jemursari Surabaya.
The memorandum of understanding signed by the two institutions included collaboration in various activities, such as student exchanges, lecturers, researchers, and staff, research collaborations, and exchanges of scientific expertise, publications, and academic information. In addition, both institutions can also hold a series of joint activities in the form of conferences, seminars, or symposia.