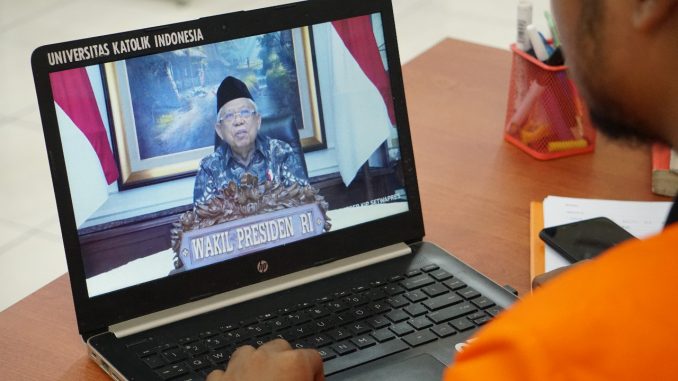 Under the instruction from the Ministry of Education and Culture, for the first-ever time Atma Jaya Catholic University welcomed the new students in the virtual orientation program on Monday, August 31. Conducted on the theme "Building Care, Knitting Diversity", the program was scheduled for two days and ended on September 1. It was virtually joined by students from Semanggi Campus, Pluit Campus, and BSD Campus.
Rector of AJCU Dr. A Prasetyantoko said, "This student orientation day marks Atma Jaya' readiness to face changes. University should be at the frontier to act due to the pandemic. The founding fathers' spirit encourages us to keep being relevant and impactful for others, society, and nation. Therefore, Atma Jaya Catholic University graduates are expected to be excellent and caring, to deliver transformation and bring change for common good where-ever they are."
To get the students familiar with the the university's core values, the welcoming committee chose a popular media such as podcast to deliver the materials. The podcast titled "Bangga Atma Podcast" was launched on the same orientation day.
Welcoming the students, Vice President of the Republic of Indonesia K.H. Ma'aruf Amin urged the students to study passionately and take advantage of the opportunities available to gain knowledge and experiences.
"I am certain that Atma Jaya Catholic University will educate Sahabat Atma (AJCU students and academic community) to become prominent scholars and will build a generation full of tolerance and compassion towards each other, and who will stand for their country. These are the foundation to knit diversity."
The vice-president added that the Covid-19 has disrupted the daily basis of economics, social, culture, religiosity, and dan education. "When celebrating the 75th year of Indonesia independence, there is an important value we all should have that is striving for this county's progress and never give up."
Speaking about campus as a government supporter for the Onward Indonesia vision and its contribution to development, Mr. Ma'aruf Amin expects campuses to denote its function as the center of excellence. The vice-president points out the campus's strategic role in development through conceptualization, research, and innovation and collaborations with various institutions of respective fields in delivering exceptional work for the nation.
University is the proper proponent in producing competent human resources. The rising of artificial intelligence, big data, and the advancing informatics and communication technology will cause a shift from linear growth to an exponential improvement in short. Indonesian human resources must become the 4.0 revolution industry actors that will enable the country to morph into a self-sufficient nation.
For the new students, K.H. Ma'aruf Amin said, according to Statistics Indonesia, only a small number of young generations have the chance to go for higher education. 137,090.00 million working population aged 15 years and over, February 2020 workforce data recorded that only around 14,022,000 or 10.3% were college graduates. Therefore, he hoped those who had the chance might become agents of change and role models.
Concluded his welcoming remarks, vice-president K.H. Ma'aruf Amin conveyed a message to always practice the health protocol, and this critical situation "must not make us weak or careless, give up and lose our way."
Ministry of Communication and Informatics and Atma Jaya Faculty of Economic and Business alumni, Mr. Johnny G. Plate, who also virtually present, endorsed the higher education institution's contribution to the Onward Indonesia vision.
"I hope the new students make use of the communication and informatics technology advancement, as well as mastering digital space positive, creative, and innovative activity. Indonesia needs more inventors, innovators, and investors in the tech and digital economy sector."
Vice-Rector for Student Affairs Agustinus Prajaka, S.H., M.Hum explained that the orientation program was designed according to the Directorate General of Higher Education and Ministry of Education and Culture instruction. "The program is made according to university guidelines regarding the campus introduction, organization, activities and how to adjust to studying in college."
The welcoming committee, which consists of students, worked hard to use every possible technology option to deliver every subject. As well as introducing first-year students to the campus' digital ecosystem, and at the same time bring warm greeting in welcoming new family members to the academic member of Atma Jaya Catholic University.