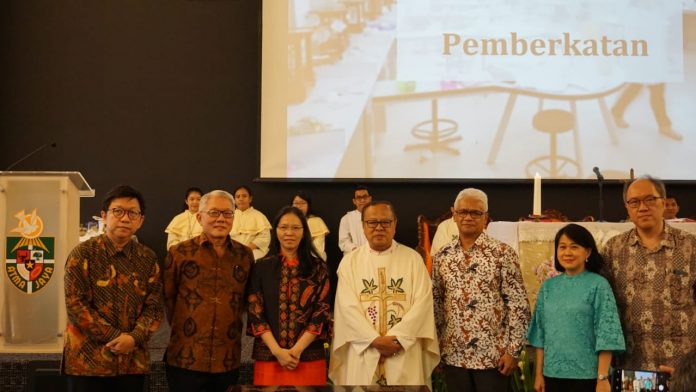 Atma Jaya Faculty of Medicine just officially inaugurated an integrated laboratory at Campus 2 Pluit on Monday (May 20, 2019). The integrated laboratory consists of pharmacological lab, physiological lab, biochemical lab, biomedical lab (received the standardization of BCL 2+), and Animal House. All the laboratories have been equipped with safety equipment, such as eye wash, safety shower, emergency exit door, and fire alarm.
The existence of this lab is a proof of Atma Jaya's development which is based on Tri Dharma Perguruan Tinggi values, which are education, research and community service. Moreover, the opening of this lab is also an Atma Jaya Catholic University of Indonesia's (AJCUI) step to support learning and research process for medical students. The lab is located in the same building and supported with collaborations among researchers from various disciplines.
At the inauguration ceremony, Dr. Yuda Turana, the Dean of Atma Jaya Faculty of Medicine, said that the upcoming generation of doctor's challenges are globalization and changes in health system in Indonesia. "In the middle of globalization and changes of Indonesia's health system, the strengthening of basic medical knowledge through research becomes very important as it will be the basic foundation of medical discipline."
The integrated laboratory will be also be integrated with the existing pharmaceutical laboratory. The pharmaceutical lab offers facilities of biochemical pharmaceutical lab, drug, food and cosmetics analysis, organic chemical, pharmacognosy and phytochemcial. It is hoped that these two laboratories can help bring AJCUI to the international scale.
The inauguration and blessing ceremony was started by a blessing led by the Archbishop of Jakarta, Mgr. Ignatius Suhargo, accompanied by RD. Albertus Yogo and RD. Hardijantan. It was then followed by a signing done by Ir. Aswin Wirjadi (The Chairman of Atma Jaya Foundation) and Mgr. Ignatius Suhargo.