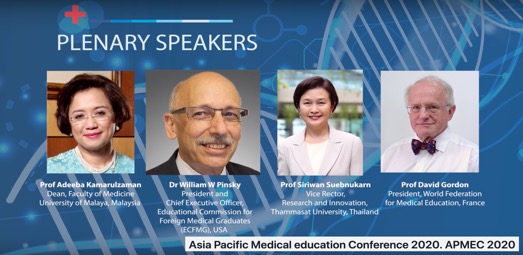 Professor Dr. Siriwan Suebnukarn, Vice Rector for Research and Innovation at Thammasat University, was invited to give a plenary lecture at the Asia Pacific Medical education Conference 2020 (APMEC2020), 8-11 January 2020, in Singapore. The topic was about "Artificial Intelligence and its influence of Dental Education and Student Learning".
Dentistry is one of the most challenging areas for education. The development of clinical competence requires the assimilation of large amounts of knowledge combined with acquisition of clinical skills and clinical problem-solving ability. The traditional methods of skill training and assessment, however, have limitations such as the lack of challenging dental cases, limited availability of expert supervision, and limited level of detail in human expert assessments. Practice on live patients poses ethical concerns. With recent advantages in virtual reality (VR) technology and artificial intelligence (AI), training in dentistry is entering a time of change towards more realistic and interactive environments. Virtual reality refers to a human–computer interface that facilitates highly interactive visualization and control of computer-generated three-dimensional scenes and their related components with sufficient detail and speed so as to evoke a sensorial experience similar to that of a real experience. The strength of using a VR system for clinical skill assessment is the ability to automatically record associated kinematic data on how experts or novices perform each step of the clinical task, e.g. position, angulations, and force used, which are not available in the conventional skill training environments. The ability of those process variables that can clearly distinguish between novices and experts skill performance is important for the development of objective assessment criteria. Such variables are needed to build AI algorithms for the new generation of intelligent clinical skill training system that may allow more effective training experience with real-time feedback of skill performance.
 Professor Siriwan Suebnukarn serves as Vice Rector for Research and Innovation at Thammasat University, Thailand. Prof. Suebnukarn's combined background in Dentistry and Computer Science gives her a rather unique set of skills to tackle some important outstanding problems in Medical Informatics and Education. Her research work has included intelligent clinical training systems, virtual reality surgical simulation and clinical decision support systems. She developed an Intelligent Virtual Reality Dental Simulator for which she won the prestigious International Federation of Inventor Association's (IFIA) Lady Prize for the Best Women's Invention. Prof. Suebnukarn has over 60 scholarly publications in the fields of Dentistry, Medical Informatics, Intelligent User Interfaces, and User Modeling. She seeks to understand how expert and novice clinicians perform decision-making and provide interventions. She has explored strategies for optimal control and accuracy to carry out the surgical procedure which has, in turn, become a model for development of automated surgical training systems.