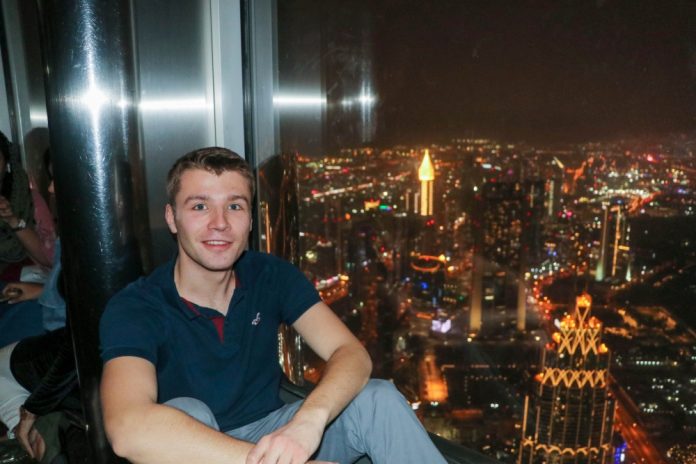 Ajman University (AU) hosted an interdisciplinary Winter Study Tour, January 3-9, 2020, as a way of introducing international students to the UAE's rich history and future prospects as well as the institution's own legacy of inclusion and innovation.
A total of 42 students from eight countries – United States, Germany, Netherlands, Croatia, Singapore, India, Vietnam, and Taiwan – excitedly participated in the program held under the theme "Gateway to Global Hub of Opportunities."
On the first day of the program, Chancellor Karim Seghir told the students that AU and the UAE would become their second home. "This is the beginning of a long-lasting relationship," he affirmed. "Welcome to the future."
Organized by Eng. Tazeen Sharif, a lecturer at AU's College of Engineering and Information Technology, the Winter Study Tour served as a unique platform for these graduate and undergraduate students from around the world.
"It helped them gain hands-on experience with robots and gadgets, witness the best industrial practices and processes in operation, and explore robust career opportunities," Sharif explained.
Participants enjoyed rigorous technical sessions on AU's campus before embarking on leisure activities including an unprecedented view of modern Dubai from the top of Burj Khalifa and an afternoon of dune bashing. All of them were enthralled by the architectural splendor and cultural significance of the Sheikh Zayed Grand Mosque in Abu Dhabi.
Jaishankar Saini, a 22-year-old student of Technology, Computer and Communication Engineering at Manipal University, Jaipur, India, found the Study Tour to be enlightening and engaging.
"This is my first time to do something like this, and it gave me a better idea about the UAE as a global hub," she commented.  "The people here are so friendly, but what is even more special is the mixture of heritage and advancement – past and future."
Saini was equally impressed with the Ajman University campus. "The premises, facilities, colleges, students, faculty, and staff are so impressive. I wish to come here again and will definitely tell my fellow students about this great country and university."
Rohan Anisetti, a 23-year-old student who is earning a master's degree in Structural Engineering & Mechanics with the University of Massachusetts, Amherst in the United States, was fascinated by what he witnessed on the Study Tour.  "It is amazing to come to explore new things, meet different people, and to be introduced to brand-new ideas," he said.
Anisetti was especially impressed by the UAE's transformation from a desert nation to a top destination worldwide for technology and tourism. "Everything about this place is incredible and awe-inspiring," he said. "I'll be back!"
Julian Philipp, an Electrical Engineering student at Darmstadt University of Applied Sciences in Germany, said, "I will never forget your unmatched efforts in organizing this wonderful study tour and immense hospitality I found in UAE. This visit will forever hold a special place in my heart."