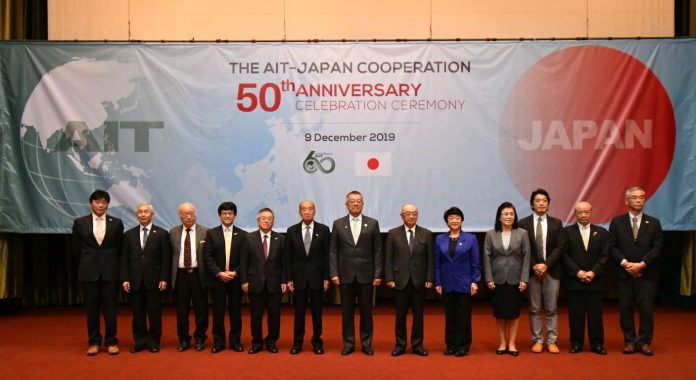 Celebrating 50 years of cooperation between the Asian Institute of Technology (AIT) and Japan, President Eden Y. Woon described the association between the two as a "relationship from the heart." Recounting contributions from Japan, President Woon recalled how Japan provided AIT with support from its early days, and how almost 1,000 alumni from all around the world have benefitted from Japanese support.
Celebrating the occasion on December 9, 2019, the AIT President thanked Japan for its "selfless assistance to AIT." He reminded the audience that apart from research collaboration, Japan had also seconded faculty members and researchers to AIT. Several AIT former vice presidents also came from Japan. Recently, on the occasion of AIT's 60th-anniversary celebrations, three university presidents from Japan participated in the Presidents Forum.
Ambassador of Japan to Thailand H.E. Mr. Shiro Sadoshima stated that Japan had envisioned that AIT would play a critical role in Asian development, and this led to Japan offering support to AIT from the very start. Beside scholarships, the Government of Japan donated the AIT Conference Center in 1977 and the AIT Library in 1981. Japan has also seconded 163 faculty members to AIT. The Japan Aerospace Exploration Agency (JAXA) continues to offer both technical and financial support to AIT in the fields of remote sensing and geographical information studies. Further, Japanese universities and the private sector helped AIT emerge out of the catastrophic 2011 flood by offering mobile water pumps as well as financial support, Ambassador Sadoshima said.
President Woon and Dr. Chiaki Mukai, Vice President of the Tokyo University of Science, also signed a Memorandum of Understanding (MoU) in the presence of the Ambassador of Japan and Dr. Subin Pinkayan, Chair of the AIT Board of Trustees.
Dr. Mukai, who has the honor of being the first female astronaut in Asia, delivered a talk on "21st Century Education: Pursuing Diversity." Having flown in space twice (aboard Columbia in 1994 and Discovery in 1998), she mentioned how the international microgravity laboratory in space was a symbol of diversity — of nationalities, professions, and gender. "It was diversity that made the team so strong," she remarked as she recounted her experience as a medical doctor researching in space along with engineers, aviators, and even a senior politician. She also interacted with a group of AIT students, who asked her about her experience and motivation.
Mr. Masahiro Imbe delivered a congratulatory message on behalf of the AIT Alumni Association (Japan Chapter). Mr. Nishimura Sohsuke, General Manager, Kurita Water Industries Ltd., Kurita Water and Environment Foundation, spoke about "Kurita Scholarships: Contribution to the Development of New Technologies of Water Conservation and Environmental Protection."