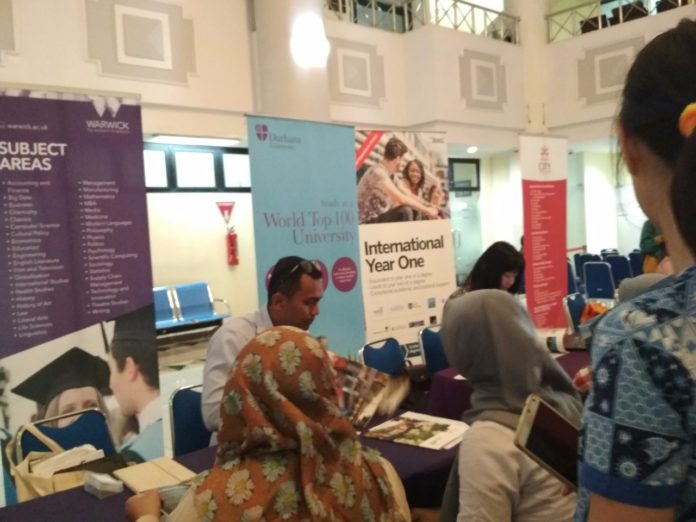 UNIVERSITAS AIRLANGGA NEWS – Universitas Airlangga (UNAIR) through Airlangga Global Engagement (AGE) UNAIR held Study in UK EXPO 2019 in collaboration with IBEC in Main Hall of Campus C, Universitas Airlangga. There were booths from seven UK universities and one English language test institution participating in the event.
These seven universities were Durham University, University of Sheffield, University of Warwick, University of Nottingham, University of Glasgow, City University of London and Queen's University of Belfast. While the institution of English language test which also participated was Pearson PTE Academic.
The expo was opened for public. Most of the participants were from UNAIR academics. However, there were also several high school students who came to ask for information in each booth.
Frequently asked questions by participants were related to requirements, funding and scholarships provided by the university. In Indonesia, each university has different policies in terms of requirements, funding and scholarships.
In University of Nottingham, for example, the tuition fee that must be spent by international master students depends on the program they take.
For MSc business courses program, the total cost of education starts at £ 21465 (or around Rp. 389,647,023.99) while MBA courses and MSc in finance and banking courses are £ 24975 (around Rp. 453,362,889.54). These fees are for 2019/2020 year program and it will be updated annually. For more information, you can visit each university's website.
Mellya Junita Ulfa, AGE staff and the person in charge of this expo explained that before it was opened to public at 14.30, a table top meeting was held at Kahuripan Hall 300.
"The top table meeting invited several faculties at Universitas Airlangga represented by deans and or faculty representatives," said Melly.
At the top table meeting, each representative from faculty was given opportunity to discuss with the representatives from seven UK universities. Most of the topics discussed are related to the potential collaboration between universities.
Melly hoped that UNAIR students will be interested in continuing their studies at UK universities. Melly also hoped that cooperation will develop good relations between UNAIR and UK universities. (*)