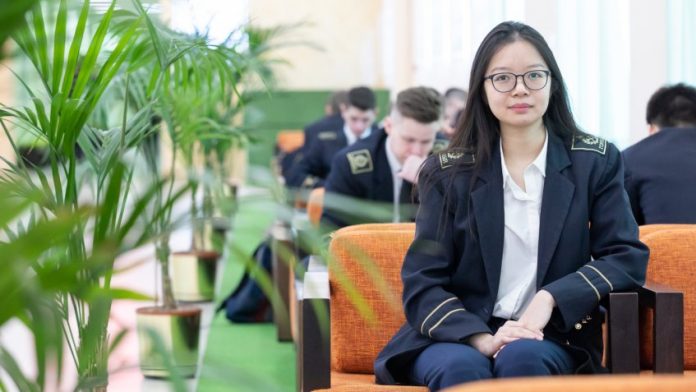 Have you ever wondered what it feels like to be back in the country you were born in but had to leave? A student from Vietnam, Quynh Anh Do, had lived in Yaroslavl until her family moved back to the country her parents came from in the 1970s. The financial crisis of 2007-2008 forced the family to relocate back to what was once their motherland, but the girl who had spent the first twelve years of her life in Russia had a hard time adapting to the realities of Vietnam. She wanted to return to Russia, and that dream finally came true when she got accepted to Saint-Petersburg Mining University. Today, the Vietnamese student is ready to share her experiences.
According to Quynh Anh, higher education is a top priority for all people in Vietnam – whether they live in a large city or some remote province – and young people usually start preparing for entrance examinations while studying at school. Foreign education is of value as well. There are numerous universities all over the country, but Vietnamese, if there is an opportunity, prefer to study abroad. The most popular study destinations are Russia and the US.
One example Quynh Anh mentioned is a graduate of the Mining University who upon completion of the studies returned to his hometown and opened a school there. The school has become very popular among high school graduates who come to study mathematics, physics, English, and other subjects. School teachers also help youngsters to prepare for university entrance exams. 
Oil & gas specialists are highly valued, but the competition among undergraduate applicants is unbelievably high. Sometimes, one has to score 30 points – 10 points from each exam, three exams altogether – to be accepted to the university. Earning 10 out of 10 marks in all three exams is a rare achievement though, and scoring 30 points in total is nearly impossible. That is where the so-called 'bonus points' make all the difference; they are usually granted to children of war veterans or employees of state organizations.
Quynh Anh Do did not want to take her chances of applying to local higher educational institutions but decided she should try to enter a Russian university instead. Study places in state-owned universities are allocated under the quota system, organized by Rossotrudnichestvo, a Russian federal government agency. Quynh Anh participated in the academic competition on the Russian language and won the first place; thus, she secured a study place in one of the Russian universities.
"Out of all universities, I chose the Mining University. Having obtained a Bachelor's Degree, I decided to pursue studies at a higher level and applied for a Master's program. I am more than happy with the quality of education at my university; that is why I decided not to change the university but continue studying here."
At first, Quynh Anh thought the educational process would be more European-like: a student chooses disciplines, sets up a timetable, and studies mostly on their own. However, it is not true for St. Petersburg Mining University where all classes follow the schedule and attendance is mandatory. Now the Vietnamese student believes this system to be more efficient and convenient. She also says there is a lot more freedom given to Master's and PhD students: university teachers only help to define the topic of future research and provide advice when needed.
Surprisingly, Quynh Anh wants to go back to Vietnam once she graduates. She wants to start working in the inorganic chemical manufacturing industry upon return.