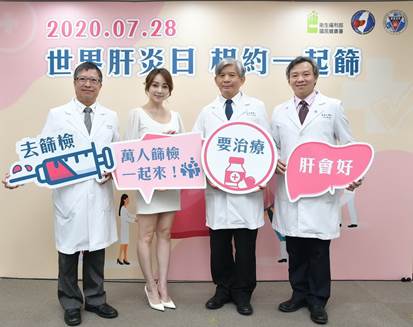 The latest study by Professor Ming-Lung Yu, who is also the Senior Vice President of Kaohsiung Medical University serving as the attending physician of the Division of Hepatobiliary and Pancreatic Medicine at Kaohsiung Medical University Hospital suggested that clearance of hepatitis C virus could not only significantly reduce the risk of liver cancer by nearly 80 percent, but it could also significantly reduce the risk of gastric cancer and malignant lymphoma by 67% and 73% respectively.
The study was published in a leading scientific journal "American Journal of Gastroenterology" in August 2020.
Professor Ming-Lung Yu pointed out that chronic hepatitis B and chronic hepatitis C virus infection accounts for most of the occurrence of liver diseases in Taiwan. Clinical symptoms of early-stage hepatitis are not obvious so that it would be in critical condition when the patients start to complain of loss of appetite, jaundice, and even brownish urine. Therefore, it is best for patients to undergo hepatitis B and hepatitis C screening directly.
Liver disease is one of the diseases afflicting Taiwanese, and liver cancer has ranked among top two cancer deaths for 40 years. According to statistics, there are around 11,225 people diagnosed with liver cancer every year, with hepatitis B and hepatitis C responsible for 80 percent.
On World Hepatitis Day, July 28th, Health Promotion Administration, Ministry of Health and Welfare, a governmental department, and Taiwan Liver Research Foundation, a non-governmental organization work together with Kaohsiung Medical University in order to realize the World Health Organization's vision of "Viral Hepatitis Elimination by 2030" by advocating "Get Screening, Get Treatment, and Get a Healthy Liver" to raise Taiwanese health consciousness.