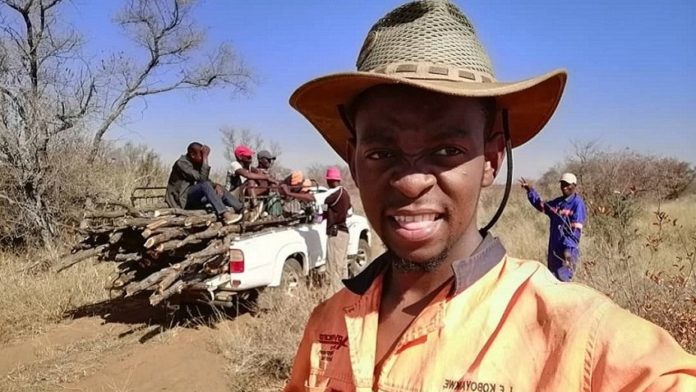 A graduate from Botswana who studied at St. Petersburg Mining University shares his story of how Russian education has helped him and is still helping.
As Eric Koboyankwe, who returned to his home country two years ago, recalls, "My father worked for Debswana at the Jwaneng diamond mine. Jwaneng in Botswanan means 'a place of small stones'. He used to tell me a lot about his work, and I wanted to grow up and learn how to operate heavy machinery, how to design it. Upon graduation from school, I was, however, heavily disappointed to find out that there were no universities in Botswana where I could study mechanical engineering. And we are talking about the country the economy of which is entirely dependent on mining!"
A young boy realized then that if he wanted to become an engineer and design-heavy equipment, he had no other choice but to explore international study opportunities. Apparent options were, therefore, those countries with well-developed mining industries and universities providing related educational programs.
"We, in Botswana, understand that if speaking of the diamond industry, there is only one country ahead of us, and that is Russia. It is the world's top diamond-producing country, whereas we are holding the second position. Yet even 10 years ago, one could hardly find any information about Russian education. Luckily a lot has changed, and people no longer question the quality of education in the country. As for me, I made my choice when I found out that Mining University is among the top 20 mining & engineering schools globally," says Eric.
Back then, he found out about an opportunity to study in Russia for free. There is an organization called Rossotrudnichestvo, which is responsible for promoting Russian education services abroad and distributing quotas to international students. The problem is that only 21 quotas for state-funded education in Russia are allocated for the country wherein the population has already surpassed 2 million. Eric did not pass the competition.
As Eric notes, "I had not much to do, the only option left was to take my chances on paid education. To keep me capable of acquiring new knowledge, I entered the Faculty of Engineering and Technology at the University of Botswana and started saving. I opened a small farm next to my house. I also did private tutoring. In two years, I saved enough to pay for one year of study. It was a considerable risk, but still, I decided to send in the documents, got a visa, and bought a one-way ticket."
First-year international students study at the Preparatory Faculty. Before they proceed further, they need to master Russian and some basic skills. Eric completed courses with high grades; he even won an International Industrial and Engineering Design Tournament. At that point, he wrote a letter to the Russian Embassy in Botswana in which described his situation. The Embassy, in addition to quotas issued by Rossotrudnichestvo, granted three more scholarships to Botswana nationals. All that was needed was to prove the ambition and ability to study. Finally, Eric obtained a state-funded study place and entered the Bachelor's study program.
As Eric recalls his university life, "Mining University impressed me with its large proportions: research centers and laboratories, comfortable dormitories with gyms and cafés. But most important of all, it is an intensive scientific-educational life. The University provides regular internship and fieldwork opportunities both in Russia and abroad. It also invites worldwide known guest lecturers to hold workshops and read lectures. My studies lasted for four years. During that time, I took part in many international conferences and events. I collected so many certificates and diplomas that when I presented them to my employer, he was in a state of shock."
When the Mining University's graduate arrived back home, he sent his CV to one of the diamond mining companies and in the end, was invited for an interview. Moreover, Eric was appointed as the Deputy Head of the Department of Mining Operations straight away.
As Eric moves on to his career aspirations, "Having started working, I realized it was mechanical engineering what I was most interested in. There are very few qualified mechanical engineers in Botswana as of now. In fact, this kind of job position is not something you can find in each company. For instance, I am the first Botswana citizen who received a Degree in Mechanical Engineering from Saint Petersburg Mining University."
The good news is that the largest and most advanced Southern African enterprises are little by little opening such vacancies. Thus, Eric got a job at Remote Drilling Services, a company operating at Jwaneng – the very same mine where his father once worked, yet another company. The mine is owned by Debswana, and previously the company had the exclusive right to mine in that area. But in 2011, it began to subcontract, aiming at increasing overall production volumes.
As Eric explains, "My job responsibility is to improve mining machinery. By using software programs, I can engineer brand new machine parts and thereby make mining works safer, quicker, and more efficient. I find it interesting, and in the company, I am the only one in charge of innovation. Still, I must admit I am also missing Russia a lot."