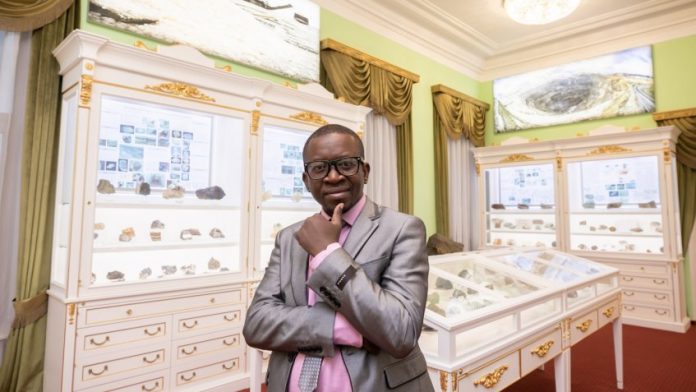 This January, Bukasa Mukendi Pitchu, Associate Professor at the Mining Department of the University of Namibia, paid a visit to St. Petersburg Mining University to estimate the prospects for partnering between the Namibian and Russian universities.
Originally from Congo, Assoc Prof Pitchu graduated with a PhD Degree from St. Petersburg Mining University in 2008, only to leave for Quebec soon, to continue his studies. Canada became his second home – he got a residence permit and a job in Genivar (now WSP Global), a local engineering consulting firm. In 2016, the former student of the Mining University took a landmark decision, another turning point in his career, and moved to Namibia to become a professor at the university and teach mining and project management.
According to Bukasa Mukendi Pitchu, "The way mining is taught in Russia and Western countries differs a lot. In Canada, university's teaching staff deliver mainly common knowledge; they also teach how to use specific software solutions. Russian university professors pay more attention to details, which makes it easier to adjust to the future workplace. In my work, I use various educational tools, but I am still taking advantage of the notes I took while studying here, at the Mining University. I also use the materials I read as a student. I even made us of a study guide on math I wrote under the supervision of my professor, Alexander Gospodarikov".
The Namibian docent actually believes that academic cooperation between Namibia and Russia is the way to bring two countries closer and push the relations on to the next level. As of now, the lack of competent engineers is a global problem, and if working together on solving the issue, the countries might find common ground.
Stating the purpose of his visit to St. Petersburg, Bukasa Mukendi Pitchu notes "The Mining University is known due to its adherence to increasing efficiency of scientific research and through the quality of educational programs it delivers. The university served as a platform on the base of which an International Competence Centre for Mining-Engineering Education under the auspices of UNESCO was established. One of the tasks of the Centre is to develop a unified global system for certification of mining engineers. The Competence Centre has been also working on improving the quality of mining education and upgrading engineering skills of the specialists employed at mineral companies. Among the partners of the UNESCO Centre are German, Austrian, Finnish, and Chinese higher educational institutions. The University of Namibia is also willing to become part of this structure".