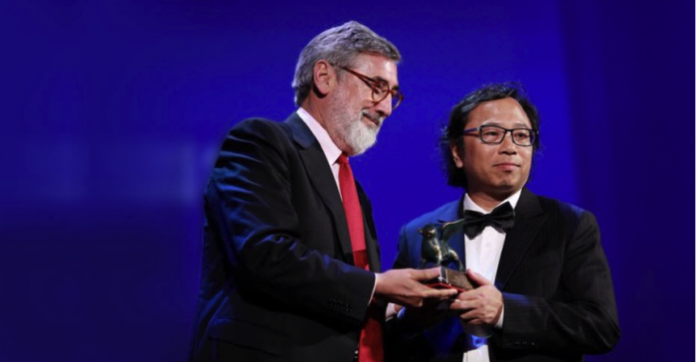 Taiwan – The 74th Venice International Film Festival launched a new competition named Venice Virtual Reality, dedicated to showcasing the best virtual reality (VR) films. The festival presented a maximum of 18 world-premieres or international premiere of VR films of any length in competition. "La Camera Insabbiata" won the Best VR Experience Award (for Interactive Content) on 10 September.
"La Camera Inssabbiata" is a cross border cooperation programme stretching from 2016, of which prof Huang Xinjian has expressed honour, and years of friendship with artist legend Laurie Anderson for her cooperation and construction of virtual reality on the work. The work went through many refinements via numerous skype meetings and intensive prototype production between New York and Taipei, which eventually led to the conception of VR works, namely "The room in the sand."
"The room in the sand" is a huge virtual space, like a huge memory maze. Visitors can be ushered in a dream-like state, and free flight in it. There are eight unique rooms, like the rotation of nebula in the galaxy, or the condensing of the voice of the visitors into a sound sculpture. These unique interactive rooms, turns the abstract into an interaction with the entity so that visitors are encouraged to explore the text and memory links.
Dr Huang Hsin-Chien deems that if the "new media art" is to explore the use of science and technology media in the arts, then Laurie's voice, music and narrative story can be called the "Soul of the media", which is how the entire movement of the story, trembling from the depths of the soul, is narrated and Dr Huang is the first to use this medium in VR.
As to the recognition of virtual reality as an emerging art form, La Biennale di Venezia has therefore recognised the importance of supporting the authors who choose to adopt this modern technology and use it as a new means of artistic expression. This is the first festival in the world to express an interest and competition in VR. There are also big investments from the film industry in researching and implementing the technology, and there are curiosities from the filmmakers to experiment in VR.